Discover the Top 50 Healthcare IT Influencers on Twitter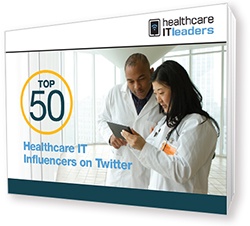 Seeking healthcare IT-related tips, updates and inspiration? Download our free eBook and discover how top healthcare IT influencers use Twitter for social selling and information sharing.
This is a must-read for HIT industry executives, technologists and marketers who want to learn Twitter best practices from peers who are actively engaged on social media.
You'll find out:
Which healthcare IT consultants, hospital CIOs, journalists and industry experts to follow


Why these influencers feel health IT is an industry worthy of sharing and creating content


How you can be more HIT-wise on Twitter
Start learning more about healthcare IT today when you follow these 50 Healthcare IT Influencers on Twitter!