15 Tips for Patient Accounting System (PAS) Project Success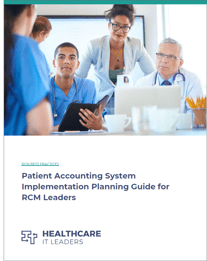 If you're implementing or even considering a new Patient Accounting System, our expert guide for Revenue Cycle leaders will show you how to reduce risk and ensure a successful migration to your new system.
From Gap Analysis through Go-Live, we take you through all of the operational, technical, and resource requirements needed to:
Transition from the legacy system

Manage cash on hand

Map and reconcile General Ledger

Benchmark and monitor key A/R and billing metrics

Ensure new user adoption and success
Our guide, written by RCM experts, is ideal for healthcare revenue and finance leaders evaluating or implementing a new EHR or Patient Accounting System. Download the free guide today.